Regular price
While Supplies Last Price
$29.99 USD
Unit price
per
Limited Offer
Sold out
🔥For those who demand the most
This item is available and in the shop. Ships same day as purchase before 3pm EST. Place your order now to secure this item while supplies last.
NEW v3.0!
The newest version of the only official Ratchet Scrench! v3.0 Massively improves the quality of this tool.
Unlike common screnches, this tool has a reversible ratchet end, which really helps out in tight spots, such as chainsaws with full wrap handlebars. Screnches are primarily used for adjusting the chain tension on a chainsaw, removing the spark plug and for accessing air filters, starters, etc on certain saws. They are a versatile little tool that does the job of 2 wrenches and a screwdriver. The scrench is not restricted to the chainsaw. It also works on small gas engine powered string trimmers and leaf blowers. You can even change the spark plugs in your car with it if you have 19mm spark plugs in it. It's a worthwhile, versatile, universal little tool to carry around everywhere you go.
Barrel Size 13mm x 19mm
Barrel Length 1-3/4" (43mm)
Overall Length 6.8" (173mm)
Fits the Following Chainsaws Husqvarna, Echo, Jonsered, Stihl and Most Other Chainsaw Brands 
Share -> Ratchet Scrench v3.0 by Ratchet Scrench
View full details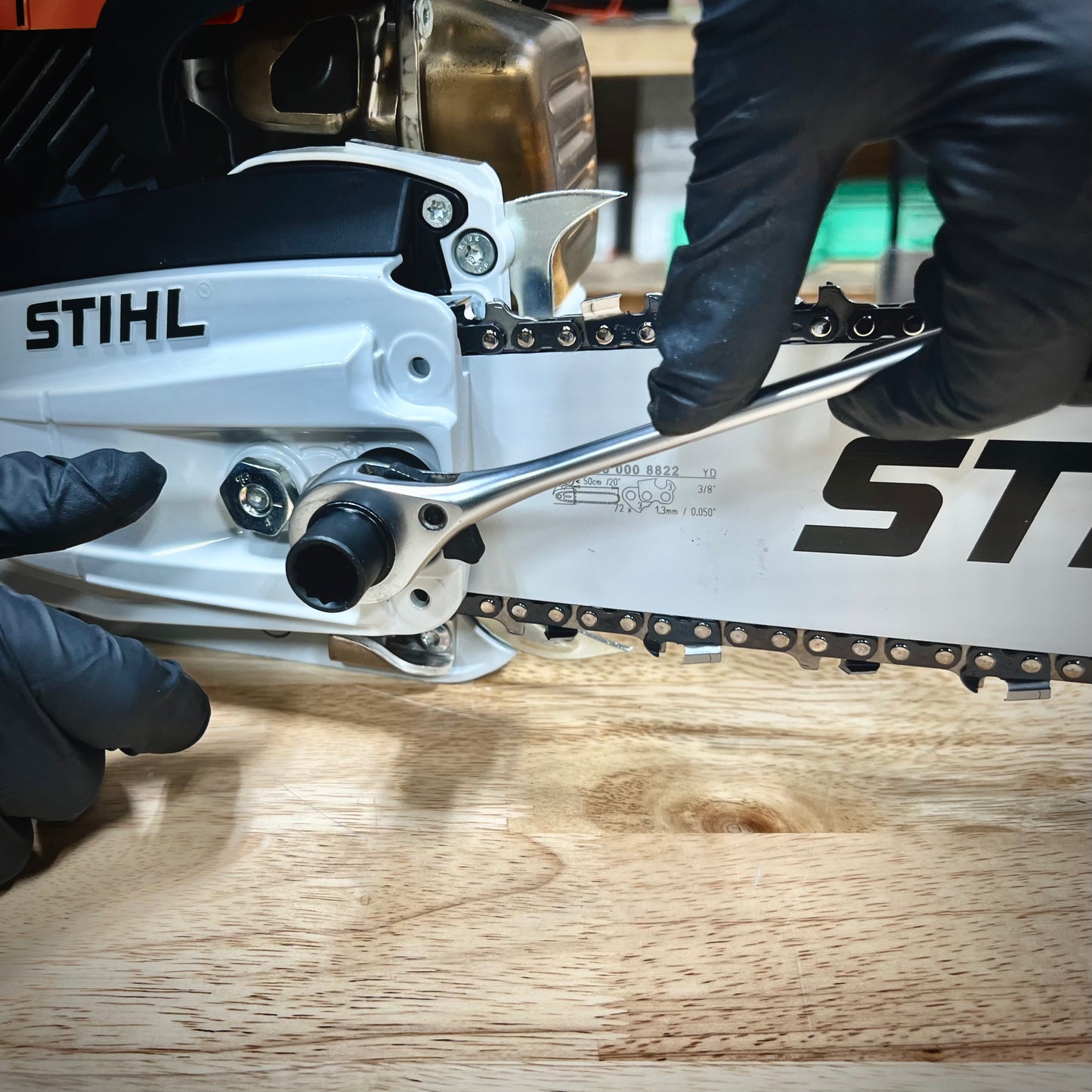 Ratchet Scrench
I'd been waiting for a Scrench re stock so was pleased to be able to order a couple at last! was really disappointed when they arrived in the quality, both were rusty and needed greasing and oil just to get the ratchet and thumb switch to work!! just wasn't expecting to have to do that to a £30 tool
Ratchet Scrench
Great product! So great!, I tried to order more, but none in stock. But will keep track of inventory
Exho
One badass saw runs like a champ and start's first pull. My go to saw
Stoked on the ratchet scrench
Works very well. Heavy duty.